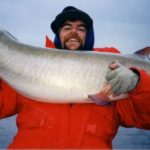 Home Town: Lived on Pewaukee Lake all my life
Family: Married to my best friend Debbie. We share two children together Krystina and Mike
Age: 55 years young!
Total Years Fishing: I grew up fishing and have longer than I can remember. I first started musky fishing almost 45 years ago. I fish with a passion that grows with each new season.
Occupation: Owner/Operator of Mikes Extreme Guide Service
Hobbies: Spending quality time with the family and giving back to the sport of fishing through stocking efforts, supporting Muskies Inc, and education.
Primary Fishing Strength: Flexibility is the foundation for a successful day on the water. Having spent the majority of my life on these waters I've developed a few advanced techniques to situations I've encountered. Jump in the boat with me and I'll show you a few.
Primary Waters Fished: Lake Pewaukee
Go To Bait: Llungen DC-9!!!! I have put more fish in the boat burring a Llungen DC-9 over the weeds of Lake Pewaukee than I care to admit. Recently I have had a tremendous amount of success also trolling the .22 Short.
Website: http://www.mikekoepp.com/index.shtml
Contact: Email: rockinranger620@aol.com     Phone: (414) 640-1642