About Us
The Company Behind Llungen Lures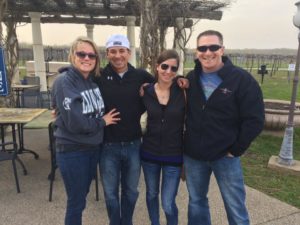 Llungen Lures L.L.C is a family & veteran owned fishing tackle manufacturing and distribution company based out of Southern Illinois. The company is operated by three partners; Chris & Cari Piha along with longtime friend Matt Gunkel. All three play an integral roll in the day to operations and distribution of fishing tackle.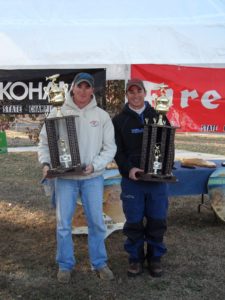 Chris and Matt met while attending Southern Illinois University Carbondale and spent three years dissecting one of Illinois' top musky producers, Lake Kinkaid. Both Chris and Matt became local legends winning back to back Illinois Musky Tournament trail victories on their home waters and taking home the IMTT State Championship in 2010. Matt would go on to win another IMTT State Championship on Lake Kinkaid in 2013.
Chris and Cari are both actively serving in the United States Air Force. Cari, an instructor pilot with over 2000 flying hours in a Boeing C-17 Globemaster, has flown countless combat missions in Afghanistan and Iraq. In 2009 she received her BA in Geography-Environmental Resources from Southern Illinois University along with her commission in the United States Air Force.  In 2014, Cari completed her MA in Transportation & Logistics Management.
Chris, an Aircraft Maintenance Officer, leads hundreds of Airmen who keep the aircraft where they belong, in the air! His primary background is in management and logistics. He received his BA in History from Southern Illinois University Carbondale along with his commission into the United States Air Force in 2010. In 2014, Chris completed his MA in U.S. Military History.Both Cari and Chris are passionate about serving their country and in their off duty time love to spend time together on the water.
Matt grew up in the Chicagoland area and would go on to study at one of the nation's top academic universities: the University of Chicago. After completing his BS in Biological Sciences, Matt moved to Carbondale to attend graduate school and pursue his passion for fishing. In 2011, Matt completed is MS in Molecular Biology, Microbiology, and Biochemistry  at Southern Illinois University Carbondale.  After graduate school and falling in love with the area, Matt was hired by Illinois Department of Public Health as a Clinical Laboratory Scientist.
In addition to fishing in his spare time, Matt enjoys writing, traveling, and spending time with his future bride, Katie.
The Llungen Lures family continues to grow and surround itself with partners that share the same passion for fishing and the love of the outdoors.
Llungen Lures Vision Statement
Llungen Lures focuses on manufacturing quality lures and providing exceptional customer satisfaction through family values, character, and hard work within the industry.
Llungen Lures Mission
Our mission is to distribute affordable American-made products and support the next generations of Musky fisherman through education and conservation.