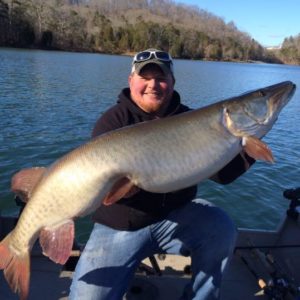 Home Town:   Winchester, KY.
Family: My daughter: Aubrey
Age: 33 yrs old
Total Years Fishing: As a hobby: 25 yrs.; as a professional 5 yrs.
Occupation: Operator/Pipe Liner @ Stanley Pipeline
Hobbies: My hobbies are spending valuable time with my family, fishing, and hunting.
Primary Fishing Strength: My strength is having the confidence in the bait I use and the cast I take.
Primary Waters Fished: Cave Run Lake, Ky. River, Green River
Go To Bait: My go to bait depends on water temperature and the time of the year. (All baits are my favorite including the .22 Short)
Tournament Success: In 2013 my partner and I won Chapter 52 Musky Inc. tournament. I have also entered the last 3 years of the PMTT but I was unsuccessful at placing. (But it will happen.)
Website: http://www.kymuskie.com/
Contact: 859-644-0908
Additional Info: You can also contact me and book a trip through Tony Grant Outdoors. The phone number is 606-776-6567. I am a professional Cave Run Guide.
I had the privilege to be on film with the late Crash Mullins on his show "Catch Ya In The Bluegrass"