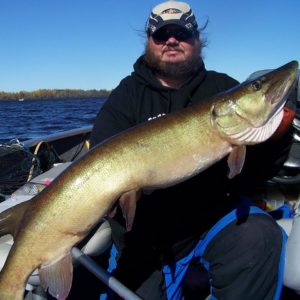 Home Town: Phillips WI
Family: Wife Dawn, Boys Chayton, Conner, Don, and Girl Angel Jean
Age: 41
Total Years Fishing: 38
Occupation: Fishing Guide/Sport Shop Owner: Ross's Sport Shop
Hobbies: Fishing, Family, & Fun!!! If I'm not working at the bait shop, I'm probably fishing. If I'm not fishing, there is a pretty good chance I might be hunting. And well if I'm not doing any of those things I'm most likely spending quality time with my family.
Primary Fishing Strength: River and Flowage Musky
Primary Waters Fished: All Northern WI
Go To Bait: Nutbuster Mag in any bright color!!! Thump thump thump hang on!
Website: rosssonline.com
Contact:
John Carlson
Email: rossport@pctcnet.net
Phone: 715-820-0958
Additional Info:
Co-Founder of Wisconsin Veterans Fishing Camp
Director of the Steve Schneider Memorial Musky Tournament – Funds raised goes to Wounded Warriors In Action Foundation