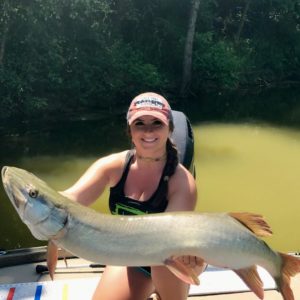 Home Town: Ashland, Kentucky
Family: Boyfriend Trevor and dog; "Baby"
Age: 27 years young!
Total Years Fishing: I have been fishing for 20+ years but very seriously chasing muskies for the past 7 years.
Occupation: In addition to guiding, I am also a business owner and EDDA Dental Assistant.
Hobbies: When I'm not musky fishing, I really enjoy interior design.
Primary Fishing Strength: Targeting musky in shallow water.
Go To Bait: Nutbuster Jr. in the "Casper" color.
Additional: Emily owns and operates Lady Luck Guide Service, she is the first licensed female fishing guide in the great state of Kentucky!
Contact: https://ladyluckguide.com/
You can follow Emily on Instagram @emily_outdoors