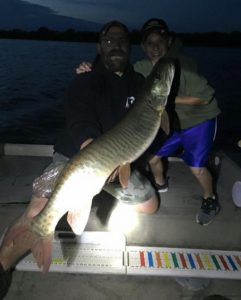 Home Town: Grew up in Saukville Wisconsin. Currently live in Jefferson WI
Family: Wife Katie & three boys Jesse Dylan and Wyatt
Age: 38
Total Years Fishing: I grew up fishing the Milwaukee river in Saukville as a kid, we would fish from sun up to sun down nearly every day of summer break. My focus turned to musky fishing after I returned to Wisconsin from serving in the USMC in  2001 and I have been chasing these toothy critters ever since
Occupation: Owner/Operator of HP-Outdoors.  I'm also a diesel mechanic at Nelson's Bus Service in Whitewater WI
Hobbies: My passion is chasing musky, when I'm not on the water I try to spend as much time with my family as possible.
Primary Fishing Strength: I try to be as versatile as possible and use a variety of methods to help put fish in the boat weather it's casting, trolling or a live bait presentation, whatever it takes.
Primary Waters Fished: SE WI including Pewaukee Lake, Okauchee Lake, Oconomowoc Lake and the Madison Chain
Go To Bait: This is a question that I get asked all the time and truly the body of water and the conditions for the day determine what I'm going to be throwing but I love fishing  Llungen bucktails. I often burn a DC-8's to trigger actively feeding fish. However, its hard for me to put a DC-9 down.
Tournament Success:
2013 WMT (musky country tournament trail) Pewaukee Lake 4th Place
2013 WMT ( musky country  tournament trail) Eagle River 1st Place
2013 WMT (musky country tournament trail) Team of the year
2014 IMTT Pewaukee Lake 1st PLace             
Website:  http://hp-outdoors.com/
Contact: hellercj@gmail.com