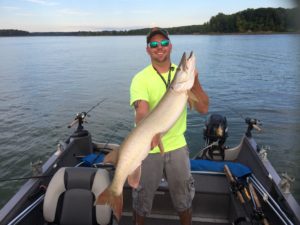 Home Town: Clinton, Ohio
Family: Married to the love of my life with two children; 1 boy 3 years old and 1 girl 2 years old
Age: 33
Total Years Fishing: Since I was knee high to a duck! 23 years musky fishing out of that.
Occupation: Musky guide for Ohio Muskie Guide Service. Commercial Construction Jobsite Superintendent.
Hobbies: Spending time with my family, fishing, & bow hunting.
Primary Fishing Strength: Being diversified in casting, trolling, and jigging. Knowing when to switch it up and try a different technique. Some people get into the habit of beating a dead horse when it comes to a certain technique. Broaden your horizons learn new stuff and know when to move on and try something different.
Primary Waters Fished: Ohio inland waters. West Branch Reservoir, Milton Lake, Leesville Lake, Piedmont Lake, and Salt Fork Lake.
Go To Bait: It's hard to pinpoint just one bait to be my go to because conditions change so much all the time. I do find myself grabbing for the .22 Shorts a lot to cast and troll them and the Llungen's Nutbuster to cast intermittent weeds.
Tournament Success:
2017 OHMC Nite Bite 3rd Place
2017 OHMC Summer Tournament 1st Place, Big Fish
2016 OHMC Angler of the Year
2016 OHMC Fall Tournament 4th Place
2016 OHMC Summer Tournament 1st Place
2015 OHMC Angler of the Year
2015 OHMC Fall Tournament 2nd Place
2015 OHMC Summer Tournament 1st Place
2013 OMTT Fall Tournament 3rd Place, Big Fish
2013 Muskies Inc. Ch. 19 Summer Tournament 5th Place
2011 Muskies Inc. Ch. 19 Fall Tournament 1st Place
2011 Muskies Inc. Ch. 19 Summer Tournament 1st Place
2011 Tom Bishop Memorial Tournament 3rd Place
2007 OHMC Summer Tournament 2nd Place
2005 OHMC Summer Tournament 3rd Place
Website: (Facebook)  @ OhioMuskieGuideService
Contact: chadharmon83@yahoo.com  or cell: (330)-206-4428