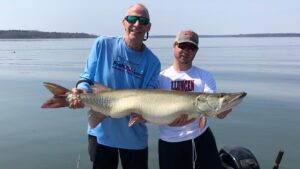 Hometown: Edinboro, Pennsylvania
Family: Engaged
Age: 33
Total Years Fishing: Since I was 4 years old! 20+ years on Lake Erie for Perch/Walleye/Steelhead. Musky guiding since 2014
Occupation: Full-time musky guide April 1st– Mid December  Captain Chaos Musky Guide Service..  Carpenter and lure builder in the winter months
Hobbies: Musky fishing, saltwater fishing, golf, bowling, lure building, and hunting with my English Setter for grouse/pheasants
Primary Fishing Strength: Utilizing seasonal migratory patterns and on the water experience to locate the largest fish in an ecosystem, then getting them to eat!
Primary Waters Fished: Chautauqua Lake, Pymatuning Resevoir, Edinboro Lake
Go To Bait: The Llungen Nutbuster Spinnerbait Series (Jr's in the Spring and Summer, Tandem's in the late summer and fall) and .22 Longs.
Website:  Captain Chaos Musky Guide Service. www.bigPAmusky.com
Contact: Bclark7788.bc@gmail.com
Brian has proven himself one of the best sticks in the Northeast, especially when it comes to casting for these toothy critters. Brian fishes mainly Chautauqua Lake in Southwest New York and many of the other bodies of water in the Northwest PA Region. While there are no promises with musky fishing, Brian has maintained an impressive record of consistently putting his clients on fish. Brian is a young and energetic guide whose understanding of these fish's behavior is far beyond his years. Brian has also captained several Lake Erie charter boats targeting walleye, steelhead, and perch. He incorporates these fishing techniques and applies them to musky fishing for a unique approach to targeting these weary fish.  Every angler, no matter what experience, can learn something new from fishing with Brian.