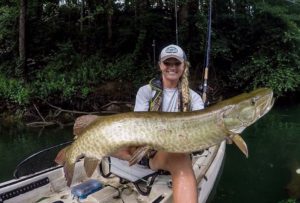 Home Town: Weeping Waters, Nebraska
Family: My three kayaks & two Christmas cactuses
Total Years Fishing: 25+ but the focus shifted to serious musky fishing for 8 years.
Occupation: Self employed- contributing writer, Pilates instructor, kayak fishing guide, tournament angler
Hobbies: Fishing of all variations, spring turkey bow hunting, antelope hunting, backpacking, climbing, travel, kayaking, camping, ice climbing. Pretty much anything outdoors!
Primary Fishing Strength: Being a well rounded angler, fishing diverse bodies of water, leveraging past experiences and new information to quickly figure out the bite.
Primary Waters Fished: NE waters, Boundary waters, Eagle Lake, Kentucky lake, New River, SD glacier lakes, Galveston Bay
Go To Bait: .22 Shorts!!!!
Tournament Success: 2nd kayaker on ice tourney 2018, 2nd road runner tourney 2017, 3rd spooky bass, 5th KBF summit 2017, 7th overall Midwest kayak fishing series
Website: www.fischeroutdoors.com
Even at a young age, I wasn't one to adhere to societal norms. Growing up in a home unimpeded by the restraints of a television, I had a natural inclination towards the outdoors. My adolescence was spent fishing the various ponds and creeks around my hometown, or exploring the woods in my backyard. Fast forward year later, and little has changed. I worked in the hunting and fishing department at a large retailer for 5 years, trying to work my way up the corporate ladder to be able to identify with the worlds view of success. However, I couldn't ignore my innate, insatiable desire to want to live a different type of life, a life deemed unsustainable by conventional society. I quit my full time job, gave up my benefits and became self employed so that I could be the boss of my own life.
I started kayak fishing in 2015, and started competing in tournaments across the Midwest to both gratify my competitive nature and serve as a humbling ego check. Besides fishing against some of the best anglers in the area, I enjoy the genuine camaraderie amongst those cut from the same cloth. Being a part of the tight knitted community of kayak anglers has not only provided me the opportunity to volunteer in the community, become a guide with a reputable company and host youth fishing tournaments, but more importantly it has given me a voice to inspire others to pursue their passions and spend time outdoors.